Pets are there for you in some of your most difficult moments, offering unquestioning comfort and tending your emotional wounds. So, it's understandable that the loss of a non-human companion can throw you for a loop. Whether you're grieving a dog, cat, horse, monkey, or bird, we promise your rough patch will get better eventually.
1
The five stages of grief
Grief is not formulaic, but you might experience the following in the aftermath of a pet's death:
Denial—You may feel shock, disbelief, and numbness, especially if your pet dies unexpectedly.
Anger—A pet's passing can affect household dynamics, especially if a friend or family member was responsible for the tragedy. Try not to play the blame game.
Bargaining—You may feel ashamed of the circumstances surrounding your pet's death, but you shouldn't blame yourself either.
Depression—this stage is normal and finite, but see a therapist as soon as possible if you can't seem to shake it.
Acceptance—It's hard-won, but you'll get past this.
2
The positives amidst the tears
Children learn that life is transient and that, with time, hardships become bearable. Once you reach acceptance and let go, you build resilience to help you face future challenges with grace. After all, life is fleeting, and Fido would want you to thrive. The loss of a pet also makes you more empathetic and means that you have the time and monetary resources to rescue another animal.
3
Hold a low-key funeral service
Pain is often evidence of love, so it's a profoundly bittersweet element of the human experience. Healing begins with acknowledging a wholesome and heartfelt relationship and celebrating the memories. Losing a pet is particularly upsetting for people in their late 20s and mid-30s who have gone through significant growth milestones in their personal lives and careers with one constant, unwavering pet. Honor the journey and involve other people who were a part of it—a send-off ceremony can be funny, joyous, and cathartic, and the people who love you will understand, not mock, the process.
If local laws allow, plant a tree or create a garden memorial with your pet's cremated remains.
Take the cremains to one of your dog's favorite spots in nature and spread the ashes.
Turn one of the many images of your dog on your camera roll into a tangible picture and frame it for your mantle or work desk.
Write an obituary.
5
Chat to a pet loss counselor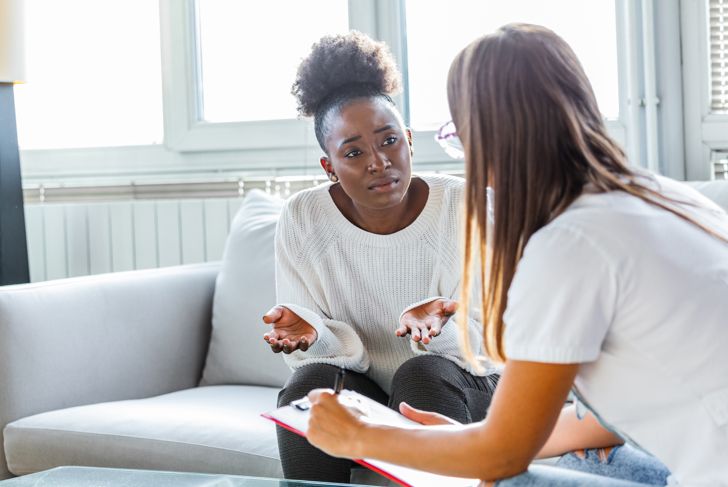 If you have an intense response to the death of a beloved animal, know that you're not alone, and aid is within reach. A therapist with a proper understanding of how deeply humans and animals can bond will take your feelings seriously and assist you in processing your grief. Do you feel guilty for not recognizing your pet was ill? Perhaps you think you let your pet down in its last moments. Pet trauma counseling gives you the toolkit to gain closure and move on. There are also support groups where you can swap stories with other pet owners, and the Association for Pet Loss and Bereavement offers a hotline if you require emergency support.
6
To leave or not to leave
A pet's death is a loss that only fellow pet owners understand, and many of your colleagues will scoff at the idea that you need time off. Only a few employers allow one to three days off for pet bereavement leave, and that's because family-leave laws don't mention pets. But your company might agree to flexible work hours or a work-from-home period. Losing a dog is devastating, and it's hard to limit grieving to home time. The sadness can compromise your ability to do your job if you withdraw from colleagues or cry at your desk or in the bathrooms frequently, so take time off if you're able to.
7
Dealing with post-traumatic stress disorder
Witnessing a pet's lifeless body after an accident or natural death can cause PTSD, and certain sights or sounds may trigger unsettling flashbacks. Some pet owners go so far as to move homes or take much longer routes to work if a car accident caused a pet's demise. Again, visiting a mental health professional can provide you with strategies to manage triggers.
8
Saying goodbye to elderly pets
One dilemma is how long to wait before euthanizing an ailing or aging pet. Your vet will be able to tell you if your pet's pain is manageable with medication. While others were acquiring new animals during the pandemic, many Americans used work-from-home periods to spend quality time with old dogs before going through euthanizations they'd been putting off. Being at home, where a pet is a large part of domestic life, is tough after euthanization, but many people were glad for the long goodbyes.
9
Pets that are in mourning
In multi-pet households, a pet's death doesn't just affect the humans in the home. Companion pets often look visibly down and go through a mourning period where they might eat less or sleep more. Dogs that shared food or had a friendly relationship with the deceased may become more nervous, attention-seeking, and less playful for a few months. Your canine housemates will also respond to your emotional state, and your grief can rub off on them. Cats and birds will also grieve noticeably.
10
How long should you wait before getting a new pet?
About one-third of pet owners feel grief for at least six months after a pet passes away. And one-fifth feel a sense of loss akin to losing a person. If you're a person of faith, it might be helpful to think of your pet waiting for you in the afterlife, ready to resume buddy duties when you are.
Once you're ready, you can consider adopting another animal that needs a loving home. Your new pet can never erase or take the place of your previous one, but it can usher in a new chapter. The American Society for the Prevention of Cruelty to Animals recommends waiting at least thirty days before looking for another pet.