Taking your best bud out for some fresh air in the evening is a great way to spend quality time together and, for many dog owners, a necessity when the closest backyard is a patch of grass or a dog park attached to your building. Keeping yourself and your pooch safe on evening walks is priority number one — thankfully, there's tons of handy gadgets that'll ensure you both make it home in one piece.
1
Use reflective gear and night lights
As the old saying goes, the best offense is a good defense. A reflective vest for you, paired with fashionable lights around your dog's collar or harness, is a good first step. You can find an array of night running gear on Amazon or at your local sporting goods store. You can't change the color of your dog, but you can wear light-colored clothes and shoes to make sure you're more visible to passing drivers.
2
Avoid walking in areas that are poorly lit
Walking in an area with poor lighting poses two big dangers: tripping or falling and being unable to see threatening people or animals approaching. Consider walking with a flashlight or headlamp if your path is poorly lit because the city has yet to replace that broken streetlamp. Walking with a friend or group is also a great way to stay safe in a poorly-lit area.
3
Stick to familiar routes
There's nothing worse than being in a scary situation in a strange neighborhood. It can be fun to venture off your usual walk route, but you should stick to known paths if you're out with your dog alone after dark. Avoid taking shortcuts through unfamiliar or potentially dangerous areas. When you stay in a familiar area, you know exactly how to get to a safe spot if anything happens.
4
Keep your dog on a leash and under control at all times
Ask a seasoned dog walker or your vet, and they'll tell you the hard truth: retractable leashes are the worst. Especially at night. Skip that troublesome version and find an option that's easier to work with and gives you greater control over your dog.
We recommend a leash with a handle for smaller dogs, and if your pup's on the bigger side (or they're prone to nervousness), you might want to add a harness to your walking routine for more control.
5
Be aware of your surroundings
There's probably nothing more important to your safety than being aware of what's going on around you. Don't look at your phone or get lost in your thoughts while walking. If you wear headphones, make sure that the volume is low enough for you to hear approaching threats. Steer clear of potentially dangerous animals or people.
Believe us when we say a good safety whistle will stun most would-be ne'er-do-wells away.
6
Avoid walking near busy roads or highways
Unless you have no other choice, don't take your dog for a walk along a busy roadway. If you don't have a choice, prioritize visibility. Adding reflective strips to your clothes ensures those hulking, hurrying vehicles can see you—especially if your path takes you through pedestrian crosswalks or four-way stops that seem to become suggestions to drivers at night.
7
Carry a phone with you in case of an emergency
Let someone know your planned route and when you'll be returning; apps like MapMyRun allow you to set up live tracking during your walk. Don't have pockets in your comfy lounge pants? We've got good news: fanny packs are back in style!
8
If you feel uneasy or threatened at any time, trust your instincts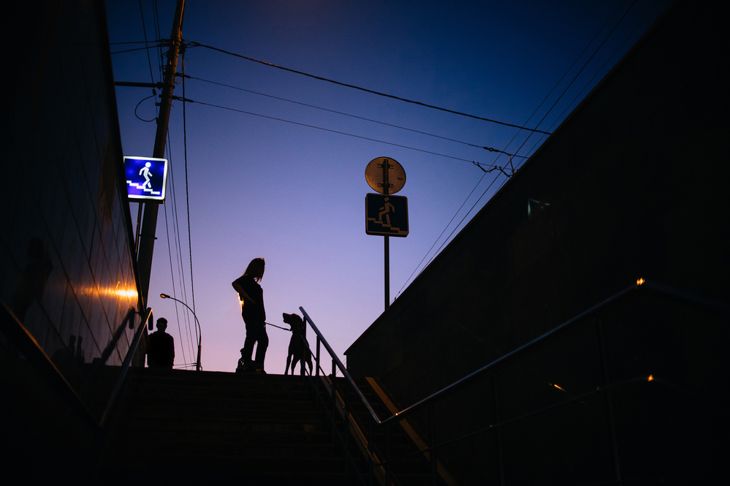 Never ignore your gut feelings. If you think you're in danger, act quickly. Take a different route or return home. If it's going to take more than a few extra minutes and someone is expecting you, shoot them a quick text once you're out of harm's way.
If you're in immediate danger or think you're being followed, call 911 and try to get to a safe place, such as a store or gas station. Remember that it's always better to be safe than sorry when out walking, regardless of whether you're strolling with a Chihuahua or a Rottweiler.
9
Keep your dog up to date on its vaccinations
There are some nasty diseases, like parvo, that dogs risk contracting when they're taken out in public. Help your dog avoid these painful and sometimes-lethal diseases by regularly visiting your vet and keeping up on immunizations.
Consider using an over-the-counter tick and flea prevention treatment, as well. You can save yourself a great deal of money and heartache if you proactively protect your dog from preventable illnesses.
10
Be prepared for inclement weather
Sometimes it feels like the weather might change every five minutes. You don't want to be caught out on a walk in clothes that could get drenched or leave you suddenly chilled to the bone. A light-weight rain shell or a coat with room for gloves in the pocket is ideal for even short night walks.
Of course, make sure that your seasonal walking gear still fits your safety goals. A reflective safety jacket might not win you any fashion awards, but most of them fit over whatever coat you're wearing, and it's always better to be unstylish and alive.