Two decades ago, wheelchairs for dogs were so rare that you could be mistaken for torturing your animal by putting it in the contraption. Thankfully, much has changed since then, and wheelchairs are a popular option to help man's best friend gain mobility and live his best life after a congenital anomaly, illness, or surgery.
In the early 1960s, a man named Lincoln Parkes conceived of and patented the K-9 cart to help handicapped or aging animals walk and give them their independence. K-9 cart was a side hustle while Dr. Parkes worked as a veterinary surgeon, and handcrafting hundreds of carts every year became his sole focus in the decades after his retirement in 1991.
K-9 carts have helped dogs do incredible things. Back in 2001, a German Shepherd, Sonntag, went on a 12,500-mile Alaskan camping road trip with its owner, Ed. The adventure took a month and a half, but a wheelchair made by Lincoln Parkes made it possible, and the story about it in The Washington Post stirred interest in mobility aids and caused a surge of demand. Several manufacturers sprung up to cater to impaired pooches.
3
Made-to-order wheelchairs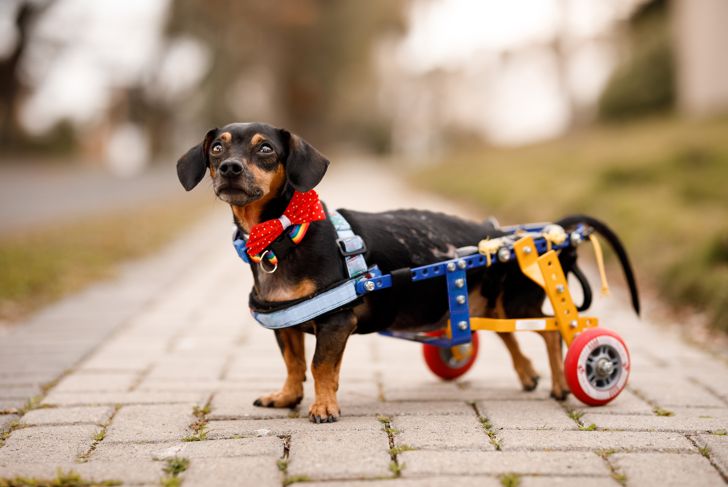 Wheelchair manufacturers make mobility aids for cats, rabbits, chickens, and other animals. They come in various sizes for small breeds like chihuahuas and larger dogs too. Wheelchairs can assist dogs with, for example, back problems or missing front or back legs, and they're fit for purpose, enabling dogs to go potty with ease. A proper fit is essential, and you get two-wheelers or four-wheelers, depending on your dog's needs.
4
Does my dog need a mobility aid?
Your dog may display the following signs if it requires a wheelchair:
Lack of coordination and balance
Unusual moodiness when out for a walk
Hesitates to do activities it's used to
Unwilling to leave your apartment or house
Fear of steps or slippery ground
Difficulty standing
If your dog has limited to no use of its hind quarters for the foreseeable future, you can explore the mobility aid topic with its vet.
5
Health issues that affect mobility
Dogs lose the use of their legs because of various medical conditions, not just aging and muscle weakness. These health issues include but are not limited to:
Arthritis
Hip dysplasia
Injury after an accident
Paralysis
Neurological disorders
Vets will amputate as a last measure if there's irreparable trauma, infection, or cancer.
6
Could a wheelchair help my dog?
The towel test is a straightforward way to check what kind of mobility aid you need to get. Fold a towel lengthwise and place it underneath your sitting doggy's stomach. Gently lift and command your dog to walk. If it can manage walking while you're lifting its rear legs, it needs rear wheels. If the front limbs give out after a while, front wheels may also be necessary.
Slings and harnesses can offer support to varying degrees too, and they are ideal for smaller breeds that weigh less. Some harnesses wrap around your dog's tummy and support its back end, while full-body harnesses can be adjusted to support either the front or back end more. It's a great alternative to a wheelchair for some dogs.
It's not always in your dog's best interest to get a wheelchair. For example, Fido may have a temporary injury, and his vet might want him to develop muscle rather than rely on a gadget. But if it's an option, your vet can recommend tried and trusted service providers for buying or renting. Do your research, so you know what questions to ask about diet, supplements, massages, ramps, and other tools to make life as pleasant as possible for your animal bestie.
9
Getting used to a new normal
Adapting and forming new habits is always challenging, so you'll need to watch doggy like a hawk. Use the wheelchair for a few minutes each day when you first get it so your dog can get a feel of how it works without tiring out. And when it does become accustomed to the crutch, haul it out for playtime or social seshes. It's not meant to be worn all day long. With time and after doing specific routes, you'll realize when to proffer assistance and when not to stress.
Like humans, a dog's mental well-being affects its physical health and vice versa. It can be depressing for your fur baby when it has to cope with an injury or disabled physical state seemingly out of the blue, and a mobility aid can instantly lift its spirits. Unfortunately, wheelchairs aren't the solution for every dog. A medical professional can advise you whether a high quality of life is out of reach for your pup.