Many people love to hug their dogs, and honestly, what's better than snuggling up with a fluffy pooch? Fluffy dog breeds come in all shapes and sizes, and all of them are great for cuddling. Remember that dogs with fluffy coats may shed a lot and have increased grooming needs. Some you can take care of at home, while others will need to see a professional groomer every few weeks.
Chow Chows are strong, compact dogs easily recognizable by their blue-black tongues and fluffy lion's mane. This dog breed is smart, easy to train, and almost cat-like. They're meticulous at keeping themselves clean, have little to no odor, and, in most cases, act calm and dignified. Chow Chows come in many colors, including black, blue, cinnamon, and cream. Their thick fluffy double coats require regular grooming as their undercoat can mat easily.
If you want a clever, friendly, and alert pet, look no further than the American Eskimo dog. This fluffy dog breed comes in toy, miniature, and standard sizes, but each type has the same bright white coat with extra fluff around the neck and shoulders. American Eskimo dogs are smart and willing to please, making them easy to train and a good choice for homes with children. They need a thorough brushing a few times a week and an occasional bath.
Old English sheepdogs are probably best known for their profuse gray-blue and white coat and the way it flops over their eyes. This coat draws many people to the breed, but it takes a lot of work to maintain, including thorough brushing at least once a week and regular trips to the groomers. They're built a bit like a bear and have a sweet and agreeable temperament. These dogs were bred to work and need regular exercise. They're great with children and make loyal family companions and excellent watchdogs.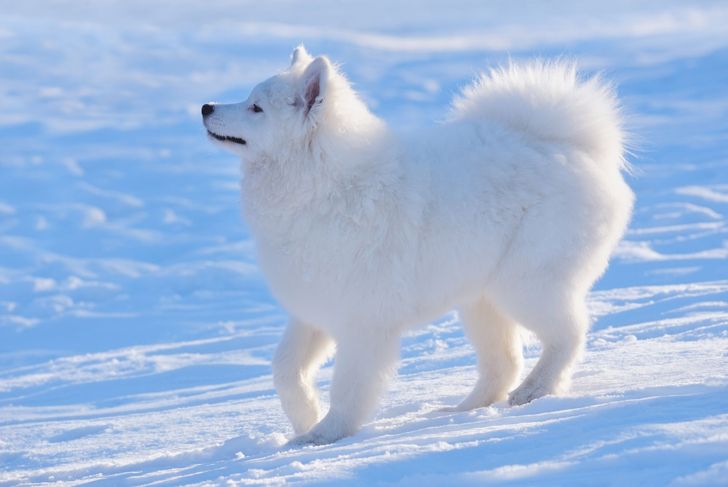 Samoyeds are smiling sled dogs bred to work in the harshest conditions. Their fluffy white coat protected them from extreme temperatures in places like Siberia. This breed is intelligent, mischievous, loyal, and loving, but Samoyeds do not do well on their own. They're very much family dogs that need attention. Samoyed's have a long outer coat of coarser fur and a soft wooly undercoat for warmth. They shed year-round, with more profuse hair loss a few times a year, and require daily brushing.
One of the best things about the fluffy white coat of the Bichon Frise is that it's hypoallergenic. Their plush soft fur, rounded head, and big dark eyes give them an almost stuffed-animal-like appearance, and their charming demeanor makes them loving family dogs. This breed is smart, trainable, resilient, and confident. Although they don't shed much, grooming needs for a Bichon Frise are pretty intense. They require daily brushing to avoid mats and a bath and trim at least once a month.
This breed comes in many sizes, but whether you're looking at a toy, miniature, or standard poodle, they all have the same curly fluffy coat. Most show poodles have stylized Continental clips, but generally, people keep their fluffy fur cut short. If allowed to grow, their coats will get long and wavy. Without proper care, the hair on a full-coated poodle will mat, and you'll have to shave your pet so the growth can start over. Poodles with longer fur require daily brushing. Most people take their poodles to the groomer every four to six weeks to keep their coats neat and well maintained.
Keeshonds are a spitz breed native to Holland. This fluffy dog has a fox-like face, pointy ears, a plumed tail that curls over the back, and a thick gray and black coat. Their most notable feature is the shading around their eyes, making them look like they're wearing glasses. Although their coats are impressive, Keeshonds need less grooming than you might think. A weekly brush is usually enough, with regular trips to the groomer to trim the fur around their hocks, feet, and pads.
People who want a fluffy lap dog and a cuddly companion can't go wrong with a Pomeranian. Although they typically weigh less than seven pounds, Pomeranians have big personalities and are active, intelligent, and easily trained. Their abundant fluffy double coat comes in a range of colors, and they need frequent brushing to keep their fur from matting and a trip to the groomer every five weeks or so.
Huskies are medium-sized compact sled dogs known for their fluffy coats. They're surprisingly good at keeping themselves clean and generally don't have an odor, which means they only need to be bathed a few times a year. Because of their thick double coat, huskies require weekly brushing. They shed heavily twice a year, and raking out the old coat with a pin brush is one way to keep fur from getting all over the house.
For people who love a big fluffy dog, check out the Tibetan mastiff. These gentle giants have calm, mellow temperaments, and while they adore their families, they tend to be aloof with strangers. Tibetan mastiffs can get as tall as 26 inches at the shoulder and weigh upwards of 100 pounds. They have a thick double coat but require only minimal grooming. A weekly brushing usually gets the job done, though they need more frequent brushing in the late spring or summer when they shed their wooly undercoat.