Charismatic, good-natured, and even-tempered, the Boston terrier has long been a top favorite canine companion. This small-to-medium-sized dog is an excellent choice for even the smallest home or apartment and adapts well to city or rural life. Boston terriers are an easy-going breed who is just as happy laying on the couch as they are taking a ride in the car with their human family. For those looking for a socially outgoing companion who adapts well to meeting new friends and traveling to new places, this is the breed for you.
1
Boston terriers are friendly, outgoing canines
Companion breeds like the Boston terrier need human interaction. Unlike some other breeds who are wary of meeting new people, this breed thrives on it. The bright-eyed Boston terrier is perfect for life in the city. They love taking walks in the park or strolling along the streets of your neighborhood. These gregarious pups will likely make new human friends with each excursion. Their friendly disposition and sweet nature are reasons why advocates often choose them as therapy dogs for visiting hospitals and nursing homes. Plus, they love children.
2
Training is a cinch for these smart dogs
If you're looking for an easy-to-train dog, the Boston terrier is a great choice. While some dog breeds require an experienced owner, these fun-loving canines are perfect for the novice, first-time dog owner. They respond well to the praise-and-treat method of training and will quickly learn basic obedience commands like "sit" and "stay."
3
Boston terriers are the perfect size
You can expect a Boston terrier to be between 15 and 17 inches tall when they reach adulthood and may weigh anywhere between 12 and 25 pounds. Most live to be between 11 and 13 years old. Most people recognize the black and white coats, but you'll also find other coat colors, including a tri-color black, brindle, and white coat or a seal, brindle, and white. Seal is a unique color that changes in the sunlight; it looks black until the dog stands in the sun, and then it takes on a reddish cast. Seal and white coats and brindle and white coats are also available in the breed.
4
Grooming isn't time-consuming
The short-coated Boston terrier doesn't need a ton of grooming. Their smooth, glossy coat sheds a bit, but much less than thicker-coated breeds. Weekly grooming with a soft brush or a grooming mitt is sufficient for removing loose hair and spreading your pet's natural skin oils to keep their coat looking healthy and shiny. Regular baths are not necessary; every three months is generally sufficient. Over-bathing can cause the skin to dry out and become irritated.
5
Boston terriers may have eye issues
The Boston terrier's protruding eyes are more prone to injury and irritation. Exposure to wind, sun, and dust can cause excessive irritation and make the dog extremely uncomfortable. Check them regularly for redness or signs of irritation. Saline eye drops help flush out any debris. This breed also has some inherited conditions that affect the eyes, including glaucoma, cataracts, and corneal ulcers. A veterinarian can identify issues during annual checkups.
6
Boston terriers are brachycephalic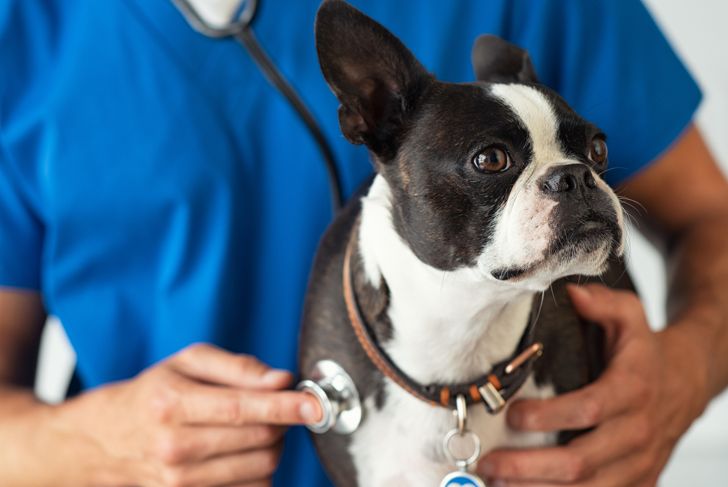 Flat-faced, or brachycephalic, breeds like the Boston terrier often have difficulty breathing, especially during high temperatures or humidity levels. Some dogs require surgery if the breathing issues are severe. Boston terrier owners often talk about snoring or "snuffling" and other noises their pet makes while awake or asleep. These sounds are due to the breed's flat-faced physical structure. Reverse sneezing — a reaction to allergens, cigarette smoke, a viral infection, or anxiety — aren't sneezes. They're throat spasms. Although they can be concerning, these episodes usually only last for a few moments.
7
Boston terriers get along well with other pets
The breed's good manners extend to other pets in the household. They are friendly and adapt easily to both other dogs and cats in the home. When they're playing with their housemates, you'll no doubt hear a lot of enthusiastic barking. During downtimes, you'll likely notice your Boston terrier curled up next to the family cat or other canine pets. Many people who own a Boston terrier become a huge fan of the breed. They add a second one to the household to keep their pet company while they are away at work.
8
An overweight Boston terrier is not a healthy dog
Boston terriers are prone to weight gain, especially if their owner leads a more sedentary lifestyle. Higher quality foods offer better nutrition and you'll find a selection of foods that address the needs of your pet according to their age. Treats are great rewards during training but don't overdo it. Too many tasty treats aren't good for humans, and they aren't healthy for pets either. Usually, a daily walk, a game of fetch, or a good romp in the dog park or backyard is sufficient exercise for this breed.
9
There's no such official breed as "teacup Boston terriers"
The American Kennel Club does not recognize unusually small Boston terriers as a separate breed for a variety of reasons. People breed undersized Boston terriers with another smaller dog, often a Chihuahua, to create a miniature version. However, these breeders often try to sell the offspring as a special type of "purebred" Boston terrier, but they are not. Veterinarians say these smaller versions often inherit the negative health aspects of both breeds. They are more likely to have health problems and shorter life spans.
10
Find a reputable breeder or a rescue
Professional breeders have worked for years to breed unhealthy traits out of their lines. Look for dogs that have passed an eye exam by a board-certified veterinary ophthalmologist. They should also have had a hearing test and genetic testing to ensure no genetic diseases. The difference between your Boston terrier having a long and healthy life or a short one, filled with one health issue after another, comes down to first finding a respected, experienced breeder.